New and different recipes for making fried and grilled chicken fillets and seasoning chicken breast with special spices. Many different places along the way, you can also enjoy it with a variety of spices depending on the ingredients you have at home, boneless chicken breast is always the main dish on the table because many people like to eat it.
Chicken fillet
There are many different recipes for preparing and marinating boneless chicken breast called fillets, which we can fry or bake in the oven, but first we will look at the ingredients needed to prepare them as follows:
Three pieces of boneless chicken breast
cup of white flour
Two large eggs
1 teaspoon soy sauce and mixed spices
Two tablespoons of olive oil
A teaspoon of lemon juice
Two teaspoons of salt and black pepper
1 teaspoon dried thyme and 1 teaspoon minced garlic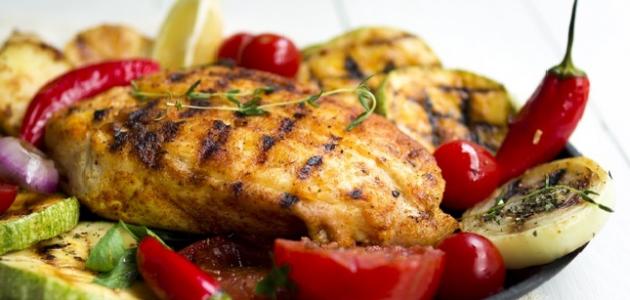 Fried chicken fillet
After selecting and presenting the necessary ingredients, we will now know how to prepare by following these steps:
In a large or medium bowl, add soy sauce, minced garlic, salt and pepper.
Add the olive oil, spices and thyme, then stir the ingredients and mix well.
Then add the chicken pieces to the previous mass, mix well and place in the fridge to cool for an hour.
We take another bowl and in it we throw the eggs and the lemon juice and we mix them together, then we take another bowl and in it we throw the flour.
We bring the chicken and coat it in eggs and then in flour, then fry it in oil until it is ready and serve it hot.
Spices with grilled chicken fillets
We will teach you a simple and easy recipe for spices and fillets with these simple steps:
Take a medium bowl and add three tablespoons of barbecue sauce and 2 cloves of minced garlic.
Then add 2 teaspoons of white honey and 1 tablespoon of mayonnaise.
With the addition of a tablespoon of minced ginger to the bowl.
Then mix the ingredients with a large spoon, stirring them together until completely combined.
We then took four boneless chicken breasts and placed them in the mass and marinated them until completely covered.
Then we place the mixture in the refrigerator and leave it for three hours, then we take it out and bake it in charcoal and serve it.
error: It is not allowed to transfer our content for non-reporting