Salads and appetizers One of the basics of the menu is the opening of the appetite near every meal. Salads contain many nutritional and health benefits, and vary in different forms. Every country is famous for the salad that distinguishes it. Egypt e.g. for serving green salad.Contains dietary fiber, various vegetables and some leaves that give it an attractive taste and aroma.All three meals and especially along with the delicious grills, Levant is famous for its fatty salad and tabbouleh.
The way famous salads and appetizers offered by the most popular restaurants work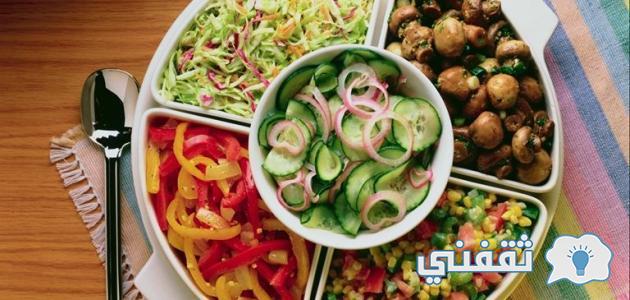 Some people, when they go to restaurants to eat their favorite food, look for a special kind of appetizer or salad that is different from the restaurant production and the most famous of them are tahini salad, green salad and special Suez salad. which is accepted to be eaten by adults and children and consists of onions, green peppers, sausage and some spicy spices, we offer for you the easiest and fastest appetizers that you can offer near all dishes.
How to make sausage salad
ingredients
kilogram of salami.
Two large red onions.
Four-bearded turkey pepper.
Two tablespoons of vegetable oil.
salt.
black pepper.
How to prepare
Peel the onions and cut them into thin slices, then remove the bunches of peppers, remove the seeds and wash them.
We also cut the bell peppers into thin rings and then place a deep frying pan on low heat.
Add the oil and let it heat up, then add the onion rings and sauté until softened.
Add the pepper rings, mix again, add salt and black pepper and leave for five minutes.
Cut the sausage into the mass you prefer, then add the ingredients to the bowl and leave for two minutes.
Cover the pan so that the sausage is ready, let it cool and then place in serving dishes.
Potato salad with mayonnaise
ingredients
Four medium potatoes.
Large grains of grated carrots.
Red bell pepper, cut into small cubes.
Packages of mayonnaise.
A tablespoon of fine sugar.
salt.
teaspoon black pepper.
A teaspoon of cumin.
How to prepare
Wash the potatoes and remove the sand or mud glued to it.
Fill a bowl with a suitable amount of water, add half a teaspoon of salt and add the potatoes.
We leave them on the fire and try them by piercing the potatoes with a fork until they are cooked.
Drain the potatoes from the water, remove the peel and place in a deep bowl minced with a fork.
Add the grated carrots and peppercorns, empty the mayonnaise can and add salt and spices
Mix the ingredients well and fill the salad with serving plates.
error: It is not allowed to transfer our content for non-reporting