Korean fried chicken is a very tasty dish, it really is not greasy. Where you can prepare it at home. So if you are thinking of surprising your kids or guests with a light dish with great taste, I assure you they will love this recipe. You can also serve it when you have your guest's friends at home.
Korean fried chicken
Korean Chicken Ingredients:
4-6 skinless chicken thighs 6 chicken wings
4-6 skinless chicken thighs
2 cloves garlic
1 tablespoon minced onion or powder
1 teaspoon salt
2 cups vegetable oil for frying
salt water ingredients
1/2 cup wheat flour for all uses
1/2 cup cornstarch
Half a teaspoon of salt
1/2 teaspoon black pepper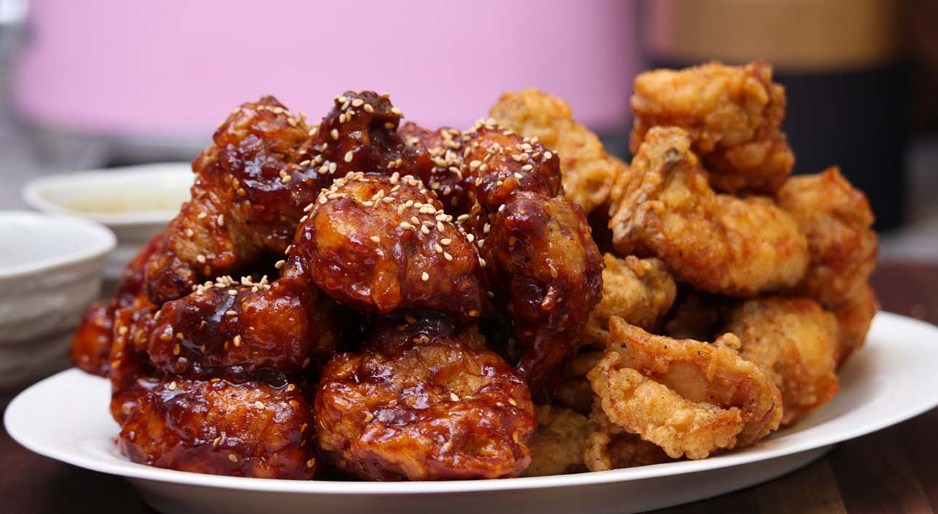 Sauce ingredients
1/3 cup rice vinegar
4 tablespoons honey
1 tablespoon ketchup
2 tablespoons cornstarch
4 teaspoons water
1 teaspoon korean chili pepper or ground chili pepper
How to Make Korean Style Fried Chicken |
Season the chicken with garlic, onion and salt. Let marinate for four hours in a plastic bag in the refrigerator.
Then turn the bag over to marinate each chicken well or leave overnight in the fridge if desired.
To make the sauce, combine the rice vinegar, honey, ketchup, cornstarch, cayenne pepper and water in a saucepan.
Simmer on low heat for 1 minute, stirring all the time.
Then remove from the heat and allow to cool well.
In a large bowl or plate, mix the flour, cornstarch, salt, and pepper well.
Then dip each piece of chicken in flour and shake to remove excess flour.
Once the chicken is seasoned and covered with flour. Heat the oil in a large skillet over medium heat, fry the chicken in batches, reserving the pieces and leaving them hot.
When the chicken is completely fried, pour the sweet and sour sauce over the pieces, taking care that each piece is well covered and serve immediately.
Important tips
Chicken meat should not be cooked on high heat because it will be cooked on the outside but will become raw on the inside. If you have a deep pan you can use pepper with 1 cup of water and pass the pieces through the mixture. before frying.You can also add a little chili pepper if you like hot.
error: It is not allowed to transfer our content for non-reporting