Chicken according to the Indian way Chef Aya Habib has the easiest and fastest way, with the ingredients available in your kitchen, and with the secret of Indian spices like restaurants, which every housewife is inclined to prepare at home because of her taste. special. For adults and children, it is Served as a hearty, nutritious and delicious meal. Served on occasions and occasions and in the following way, in the right way, in the right quantities, just like restaurants.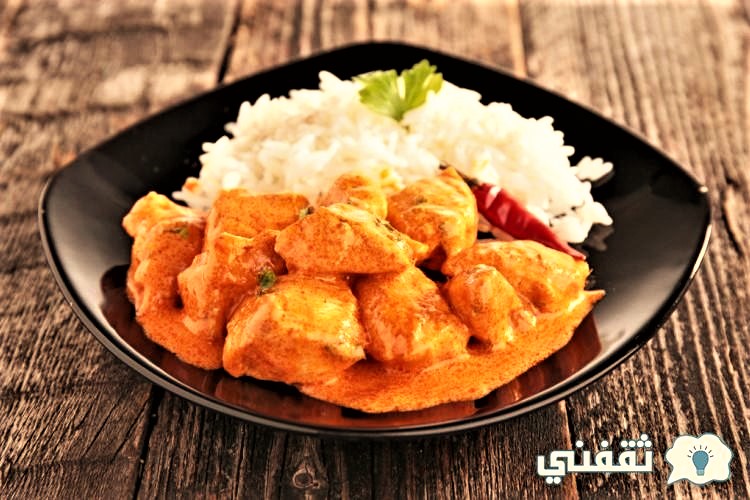 Chicken according to the Indian way
In addition to the above, Recipe with chicken butter Chicken, differs in taste from the original Chinese chicken recipe, and also differs from it in ingredients and method of preparation, also differs from the way of crunchy chicken, in taste and preparation, but all kinds of chicken can be served with bread French. , or rice, and also next to it a yogurt salad or a delicious garlic dip.
Chicken Butter Ingredients Like Restaurants by Chef / Aya Habib
Main dish ingredients
1/2 kilogram chicken breast cut into cubes.
large onion.
4 medium tomatoes.
1/2 cup cashews.
1/2 cup water.
Garlic cloves.
pinch of salt
Fresh ginger a small piece.
Gram masala spices (cinnamon, coriander, cumin, cardamom, cloves, nutmeg, a pinch of hot pepper)
A tablespoon of white vinegar.
2 tablespoons butter.
chicken seasoning
2 tablespoons yogurt.
1 tablespoon oil.
A large clove of garlic.
Fresh ginger a small piece.
1/2 lemon
salt.
black pepper.
chili pepper.
mustard.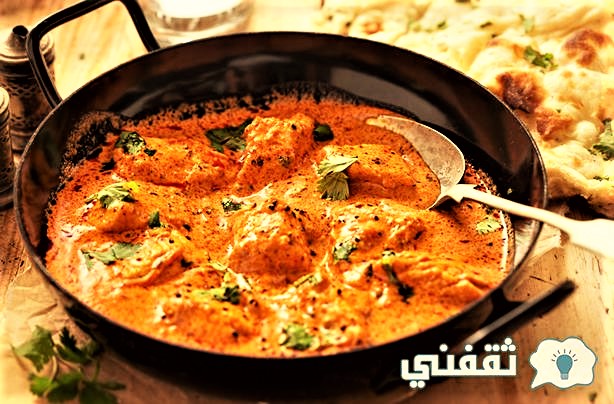 How to Make Indian Chicken Aya Habib |
Bring a large plate, pour in 2 tablespoons of yogurt, add a tablespoon of oil, then add the amount of garlic behind her skin, ginger behind her skin and lemon juice, sequentially and stirring well.
Also add the group of spices, salt, then black pepper, then mustard and chili pepper and mix well.
Then place the diced chicken in the marinade and stir well and preferably leave it in the marinade for 12 hours overnight in the refrigerator.
Also bring a pan and raise it on high heat and add a little oil and butter, then add the chicken that gets colored on both sides, then raise it on a side plate.
Lower the heat again and in the same pan over the fire place the minced onion and then add a little salt, then garlic and ginger, then add a group of spices gram masala (cinnamon, coriander, cumin, cardamom, cloves., Nutmeg, a tip of chili pepper), and a tablespoon rubbed with sugar stirring well.
Add the diced tomatoes, then add 1/2 cup cashews and mix well.
Leave the pan covered for 10 to 12 minutes, until the ingredients are softened.
Pour the bowl ingredients into the blender and mix well until you get a special orange sauce.
Bring a pan and place on the fire, mix the mustard sauce, add a tablespoon of white vinegar and 2 and a half tablespoons of butter and mix well.
Finally add the chicken pieces to the sauce, stirring well.
Now take a serving plate and place in it Chicken the Indian way Chicken butterNext to it is dazzling rice and garnish the dish with lemon slices and chili pepper as desired.
error: It is not allowed to transfer our content for non-reporting